Posts for: February, 2021
By Baldwin Dental Group
February 19, 2021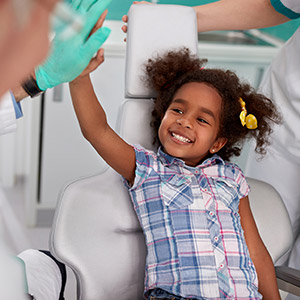 By the time your child reaches their first birthday, they may have only a handful of primary teeth. So, should you schedule their first dental visit or wait until they're older?
Absolutely schedule it—a dental visit at age one is one of the most important steps you can take to protect and promote your child's dental health. Starting routine dental care at this early stage can help ensure they enjoy healthy teeth and gums now and in the future. Here's why.
Keeps you a step ahead of tooth decay. Children can experience a rapidly advancing form of tooth decay called early childhood caries (ECC). If not prevented—or treated promptly should it occur—ECC can quickly destroy primary teeth. If they're lost prematurely, future permanent teeth may not erupt properly. Regular dental visits can help prevent or diagnose decay before it causes major damage.
Intercepts problems before they grow. Dental problems, especially bite-related, usually appear in late childhood or early adolescence. But they can start much earlier with signs only a dentist might be able to detect. Early treatments can correct or minimize a developing bite problem, saving you and your child more extensive treatment later.
Reduces your child's dental visit anxiety. The dental office can be an unfamiliar environment for a child that can trigger anxiety. But children who start dental visits sooner rather than later are more apt to adapt and view visiting the dentist as a routine part of life. You may also want to consider a pediatric dentist who not only specializes in children's dental care and development, but may also promote a "kid-friendly" treatment environment.
Promotes the importance of dental care. Beginning regular dental visits shines the spotlight on your child's dental needs and development. As a caregiver, you can gain important insight and support from your dentist toward ensuring your child's teeth stay healthy and develop normally. As a side benefit, increased attention on your child's dental care may increase the same for your entire family.
The first years of a child's life sets the foundation of their dental health for the rest of their lives. You can help make sure that foundation is as sound as possible by beginning early dental visits.
If you would like more information on effective dental care for children, please contact us or schedule an appointment for a consultation. You can also learn more about this topic by reading the Dear Doctor magazine article "Age One Dental Visit."
By Baldwin Dental Group
February 09, 2021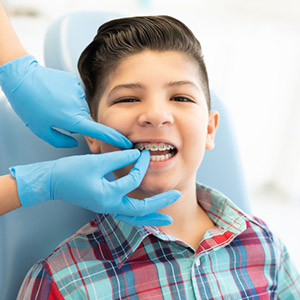 In any given year, 4 million tweens and teens are in the process of having their teeth straightened with braces or clear aligners. It's so common we tend to consider orthodontic treatment for young people as a rite of passage into adulthood.
But it doesn't necessarily have to be that way—it might be possible to stop or at least minimize a poor bite before it fully develops. That's the goal of interceptive orthodontics—treatments that head off or "intercept" a bite problem early.
The goal isn't necessarily to reposition misaligned teeth, but to correct a problem that can lead to misalignment. Here are some examples.
A narrow jaw. A narrowly developing jaw can crowd incoming teeth out of their normal positions. For the upper jaw, though, we can take advantage of a temporary separation in the bones in the roof of the mouth (palate) with a device called a palatal expander. Placed against the palate, the expander exerts outward pressure on the teeth and jaw to widen this separation. The body fills in the gap with bone to gradually widen the jaw.
Abnormal jaw alignment. It's possible for a jaw to develop abnormally during childhood so that it extends too far beyond the other. Using a hinged device called a Herbst appliance, it's possible to interrupt this abnormal growth pattern and influence the bones and muscles of the jaw to grow in a different way.
Missing primary teeth. An important role for a primary (baby) tooth is to hold a place for the future permanent tooth. But if the primary tooth is lost too soon, other teeth can drift into the space and crowd out the intended permanent tooth. To prevent this, we can insert a space maintainer: This simple looped metal device prevents teeth from drifting and preserves the space for the permanent tooth.
Although these and other interceptive treatments are effective, some like the palatal expander do their best work within a limited age frame. To take advantage of interceptive orthodontics in a timely manner, parents should seek a bite evaluation for their child from an orthodontist around age 6. The earlier we detect a growing bite problem, the greater your chances for successful intervention.
If you would like more information on treating emerging bite problems early, please contact us or schedule an appointment for a consultation. You can also learn more about this topic by reading the Dear Doctor magazine article "Interceptive Orthodontics."