Posts for tag: missing teeth
By Baldwin Dental Group
November 09, 2018
Have you experienced tooth loss?
One of the consequences of losing a tooth is jawbone deterioration. To offset this destructive effect, dental experts have long been using dental implants as a reinforcement, and your dentists in Madisonville, KY, Drs. Ben and Stuart Baldwin, know firsthand how beneficial this procedure can be and how to perform it.
Here's The Process:
The dental implant procedure consists of several simple steps. A local anesthetic is applied to the area that will undergo the procedure. Your dentist will then remove any decayed tooth that may be remaining and insert a titanium post into the jawbone. The titanium post acts as the new tooth root and is biocompatible, so there is no worry of tissue rejection. The doctor will then surgically close the area and allow it to heal for a period of 3 to 6 months while osseointegration takes its full course (this is the process where titanium fuses to the jawbone to provide reinforcement). When you return, your Madisonville dentist will re-open the area, insert an abutment, and place a crown over the abutment that matches the rest of your teeth.
Dental Implant Benefits
They anchor dentures.
They fill gaps in your teeth.
They look natural and give you a beautiful smile.
At 95 percent, implants have a higher success rate compared to other dental restorations.
You won't have to worry about being able to bite into and chew your favorite foods.
They don't slip out of place like dentures, which makes them comfortable and practical.
They provide your jawbone with the support it needs so that it doesn't shrink.
Plus, caring for dental implants is easy. Here are a few tips on how to take care of your dental implants:
Get professional dental cleanings and checkups every six months
Use fluoride-containing products like toothpaste and mouthwash to prevent gum disease and tooth decay
Brush your teeth for at least two minutes twice a day
Floss at least once before bed
Contact Us Today!
If you have questions or concerns, Drs. Ben and Stuart Baldwin can help you out. Call (270) 245-1547 in Madisonville, KY, to make an appoint today!
By Baldwin Dental Group
March 28, 2018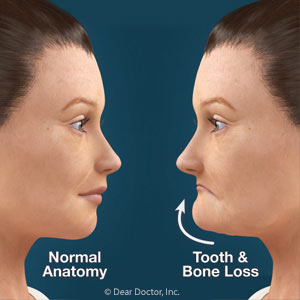 Losing teeth will certainly disrupt your otherwise beautiful smile. It could also potentially affect your food choices and whether or not you receive proper nutrition.
But something else just as consequential could be happening beneath the surface of your gums—you could be losing bone. Significant bone loss in the jaw could adversely affect remaining teeth and facial structure, as well as limit your future restoration choices.
To understand why this occurs we must first consider what bone is: living, cellular tissue. Like the body's other cells, bone has a life cycle: cells form, live and eventually dissolve (or resorb), and are then replaced by new cells. Stimulation from forces generated during chewing traveling up through the tooth roots to the jawbone keep this cycle going at a healthy pace.
But when a tooth is missing, so is this stimulation. This could slow the replacement rate and cause bone volume to gradually decrease. The jawbone width could decrease by as much as 25% the first year alone and several millimeters in height after just a few years.
Although dentures (a popular and affordable choice) can restore lost function and appearance, they can't duplicate this needed stimulation. They even accelerate bone loss by irritating and creating compressive forces on the bony ridges and the gums they rest upon.
One restoration, however, can actually help stop bone loss and may even reverse it: dental implants. This happens because an implant's metal titanium post imbedded in the jawbone attracts bone cells to grow and adhere to its surface. This could actually increase bone density at the site.
To gain this advantage, it's best to obtain implants as soon as possible after tooth loss. If you allow bone loss to occur by waiting too long, there may not be enough to properly support an implant. Even then it might be possible to build up the diminished bone through grafting. But if that's not possible, we'll have to consider a different restoration.
To determine the condition of your bone after losing teeth, visit us for a complete examination. Afterward, we'll be able to discuss with you the best way to address both your overall dental health and your smile.
If you would like more information on treating missing teeth, please contact us or schedule an appointment for a consultation. You can also learn more about this topic by reading the Dear Doctor magazine article "The Hidden Consequences of Losing Teeth."