Posts for tag: root canal treatment
By Baldwin Dental Group
July 01, 2020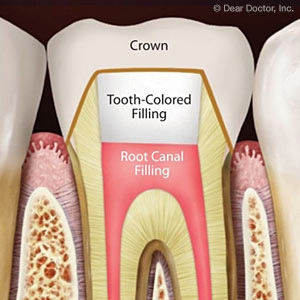 You might be a bit apprehensive if your dentist recommends a root canal treatment, especially if it's your first. That's understandable: Popular culture has portrayed the root canal as an unpleasant experience.
But as a routine dental procedure, root canal treatments have been responsible for saving millions of decayed teeth. And, with local anesthesia, the procedure is painless. In fact, a root canal treatment stops pain that often results from advanced tooth decay.
So, let's take the mystery out of the root canal. Here's the 411 on this vital but often misunderstood dental procedure.
Why the name "root canal"? The terms for the procedure—root canal therapy, root canal treatment or simply "root canal"—arise from one of the principal parts of the tooth involved, root canals. These are tiny passageways that lead from the tooth's innermost layer, the pulp, to the tooth roots. While treatment often focuses on decay or diseased tissue within the pulp, the root canals can be infected too and must be included in the later filling process.
Who can perform a root canal? All general dentists are trained in basic root canal procedures. Depending on your tooth's condition, your family dentist may be able to perform it. But if your tooth has an intricate root canal network or some other complication, you may need an endodontist, a specialist in interior tooth and root treatments. Endodontists can perform advanced root canal techniques and have the specialized equipment to handle intricate cases.
What happens during a root canal? Although details may vary depending on the type of tooth and extent of decay, there's a basic process for all root canal procedures. After numbing the tooth and surrounding tissues, the dentist drills into the tooth to access the inner pulp chamber and root canals, then removes the diseased tissue and disinfects the empty chamber and canals. After preparing the canals, the dentist then fills the empty spaces. This, and subsequent sealing and crowning, protects the tooth from future decay.
After the procedure you may have some minor soreness for a few days, which is usually manageable with mild pain relievers like ibuprofen or acetaminophen. This discomfort will diminish with time, and your tooth will have a new lease on life.
If you would like more information on root canal treatment, please contact us or schedule an appointment for a consultation. You can also learn more about this topic by reading the Dear Doctor magazine article "Root Canal Treatment."
By Baldwin Dental Group
June 17, 2019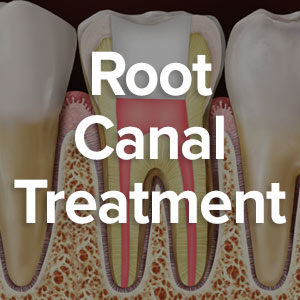 Every year U.S. dentists perform around 25 million root canal treatments and save countless teeth from the ravages of decay. But if you search "root canal" on the Internet, you might encounter an unsettling charge against this tooth-saving treatment—that it causes cancer.
Root canal treatments are routinely used when tooth decay has infected the pulp, the innermost layer of a tooth. During the procedure, we access the pulp and remove all the infected tissue. We then fill the empty pulp and root canals, seal the access hole and later crown the tooth to prevent further infection. Without this intervention, the decay can continue to advance toward the roots and supporting bone, putting the tooth in imminent danger of loss.
So, is there any credibility to this claim that root canal treatments cause cancer? In a word, no: there's no evidence of any connection between root canal treatments and cancer—or any other disease for that matter. On the contrary: root canals stop disease.
As with other types of urban legends and internet hype, the root canal-cancer connection may have arisen from another discredited idea from the early 20th Century. A dentist named Weston Price promoted the notion that leaving a "dead" organ in the body led to health problems. From his perspective, a root canaled tooth with its removed pulp tissue fit this criterion.
In the mid-1950s, dentistry thoroughly examined Dr. Weston's theory pertaining to treatments like root canals. The Journal of the American Dental Association devoted an entire issue to it and found after rigorous scientific inquiry that the theory had no validity in this regard. Another study in 2013 confirmed those findings. In fact, the later study instead found that patients who underwent a root canal treatment had a 45 percent reduction in oral cancer risk.
Given the freewheeling nature of the Internet, it's best to speak with a dental professional about your oral health before trusting a post or article you've found online. Not only are they more informed than an unverified online source, they would certainly not knowingly subject you to a procedure to save a tooth at the expense of your health.
If you would like more information on root canal treatment, please contact us or schedule an appointment for a consultation. You can also learn more about this topic by reading the Dear Doctor magazine article "Root Canal Safety."
By Baldwin Dental Group
June 02, 2016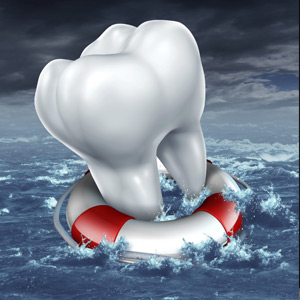 Over a lifetime, teeth can endure temperatures ranging from freezing to near boiling, biting forces of as much as 150 pounds per square inch and a hostile environment teeming with bacteria. Yet they can still remain healthy for decades.
But while they're rugged, they're not indestructible — they can incur serious damage from tooth decay or periodontal (gum) disease, two of the most prevalent oral infections. If that happens, you could be faced with the choice of removing the tooth or trying to save it.
Because today's restorations like dental implants are quite durable and amazingly life-like, it might seem the decision is a no-brainer — just rid your mouth of the troubled tooth and replace it. But from a long-term health perspective, it's usually better for your gums, other teeth and mouth structures to try to save it.
How we do that depends on the disease and degree of damage. Tooth decay, for example, starts when high levels of acid soften the minerals in the outer enamel. This creates a hole, or cavity, that we typically treat first by filling with metal amalgam or, increasingly, composite resins color-matched to the tooth.
If decay has invaded the pulp (the innermost layer of the tooth), you'll need a root canal treatment. This procedure removes infected material from the pulp and replaces the empty chamber and the root canals with a special filling to guard against another infection. We then cap the tooth with a life-like crown for added protection.
Gum disease, on the other hand, is caused by dental plaque (a thin film of bacteria and food particles on tooth surfaces), and requires a different approach. Here, the strategy is to remove all of the plaque and calculus (hardened plaque deposits) we can find with special hand instruments or ultrasonic equipment, and often over several sessions. If the infection extends deeper or has created deep pockets of disease between the teeth and gums, surgery or more advanced techniques may be necessary.
Though effective, some of these treatments can be costly and time-consuming; the tooth itself may be beyond repair. Your best move is to first undergo a complete dental examination. From there, we can give you your best options for dealing with a problem tooth.
If you would like more information on the best treatment approach for your teeth, please contact us or schedule an appointment for a consultation. You can also learn more about this topic by reading the Dear Doctor magazine article "Save a Tooth or Get an Implant?"